Get ready to unlock the intrigue of local government finance in the State of New Jersey. This book combines fiscal theory and practice for municipal & county government, school districts, local authorities, and special districts. New Jersey has many local government compliance requirements. For chief financial officers, this book serves as an indispensable, go-to desktop reference. An information rich resource will save you time and money. For beginners, this book provides context and depth to the material learned in the financial management courses at Rutgers Center for Government Services. Refunding, auditing & cash management techniques, monetary policy, and capital budgeting are among many topics of appeal to experienced public finance officers. Concerned citizens, elected officials and government administrators will benefit from learning the process of passing a local government's budget and the laws that limit the amount it may borrow. Click the
Preview link
to learn more.
Reviews
7 people have reviewed this book

David Sireci
September 30, 2019
WOW!! What a resource to have at your fingertips. I initially purchased one for my desk at work but once I saw the detailed content, journal entries and awesome appendix section I ordered another one for my personal professional library. I wish this was available back when I was studying for the CMFO and CTC exams. All those binders and handouts could have been replaced with 1 book!! Awesome job Mr. O'Reilly. You have made the crazy world of NJ statutes, OCBOA, and all the other nuances of Government finance more understandable and easier to research. Please let us know if you ever revise and update this book. I am a customer for life!!

Lori Disbrow
April 23, 2019
Finally One book to use as a reference guide for all things related to Local Public Finance in New Jersey! Many of the rules and concepts relating to local public finance can be very hard to navigate and as a local Government professional I appreciate the straightforwardness of the concepts in the Book. Thank you Peter for such a thorough Guide to local Public Finance...you will be saving me from so many exhaustive and fruitless internet searches!

The Definitive Guide to Local Public Finance in New Jersey by Peter O'Reilly is an excellent desktop reference for any seasoned or aspiring local public finance professional in the state of New Jersey. The author does a fantastic job providing examples and explanations, ranging from theory to accounting. The appendix is an incredibly useful gathering of laws, dates, votes, and percentages, which acts not only as a quickly needed resource, but also as a worthy study aid for the NJ CMFO state licensing examination. Finally, there is a book that is easy to read and understand, which helps make the complicated subject of modified accrual basis of accounting less complicated. Well done, Mr. O'Reilly!

I am a CPA, but am new to government cash basis accounting (OCBOA). The reference of journal entries in the appendix itself is worth the price of the book. I am still working my way through the first few chapters of the book. I am already benefiting from what I have read. It has been helpful for me at work.

Stephanie Santana
March 28, 2019
At last! An actual textbook that I can use while studying for the state exam in NJ! Instead of carrying around multiple binders where you may lose sheets of valuable information. The book is extremely organize and categorize by subject and by page, which is something that the Rutgers University CMFO binders does not provide. On top of that, there is additional practice problems for you to dive into to prepare for the state exam. As a bonus, it references the Local Finance Laws throughout the book. I will definitely use this in practice and as a supplemental resource when I am studying for the state exam. I am confident with this textbook I will be successful in my future endeavors.

Monica Duchnowski
March 18, 2019
As an educator and textbook editor, I highly recommend this seminal book on local government finance in the state of New Jersey. The textbook is readable with an especially well-organized layout and presentation of its content including detailed appendices. Information can easily be found so that all we need to know about public policy in New Jersey can be reached at our fingertips, all in one definitive guide. Students, professors, administrators, New Jersey citizens, municipal officials, and CFOs now have a guide to obtain the information they need quickly and effectively. Answers to public policy questions cannot always be found through internet searches on local government websites, and such searches can be time-consuming. This textbook is a welcome addition to anyone's public policy reference material, especially for its superb, clearly written explanations of fiscal theory and practice for municipal and county government, school districts, local authorities, and special districts.

Gregory Corrado
February 27, 2019
Peter O'Reilly has done a superb job of creating the first-ever go-to book on New Jersey public finance, both the law and the practice. It's comprehensive, without being boring or redundant. At the same time, Peter has included highly entertaining historic background on major concepts we take for granted. You'll enjoy the story behind the word "budget," dating back to England and the leather bags ministers would use to carry their spending plans. Equally educational is the alternative methods Peter suggests when facing daunting tasks. For example, he gives you a great work around to use in any financial audit, by employing a simple-to-use principle in mathematics (Benford's Law of leading digits). Peter is a colleague of mine in Jersey City, and I'm very proud of his accomplishment in this book. Once you start using it, you'll be pulling it off the shelf more often than not! Well worth the investment.
About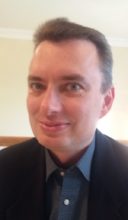 Peter O'Reilly is the Chief Financial Officer for the Borough of Red Bank, New Jersey. Previously, Peter served as Treasurer for the City of Jersey City and the Treasurer of School Monies for the Jersey City Public School District. He possesses New Jersey State licenses as a Certified Municipal Finance Officer, a Certified Tax Collector and as a Qualified Purchasing Agent. Peter graduated Magna Cum Laude with a Master of Business Administration in Finance from New Charter University and as a salutatorian from St. John's University with a Bachelor of Science degree in Actuarial Science. Peter also has more than seven years of intensive Actuarial exam study.
Before his tenure as Treasurer, Peter was a consultant analyzing fiscal and academic performance for the Jersey City Public School District and the Learning Community Charter School. He also served his community as a two-term elect Jersey City Committee person. Peter's professional experience includes a career as a pension actuary and as an information technology professional in financial services, media, and various tech startup ventures including founding a survey company. Peter has helped coauthor two software technology books back when Amazon only sold books. On the lighter side, Peter has also written a humor book, "Oh Really O'Reilly".